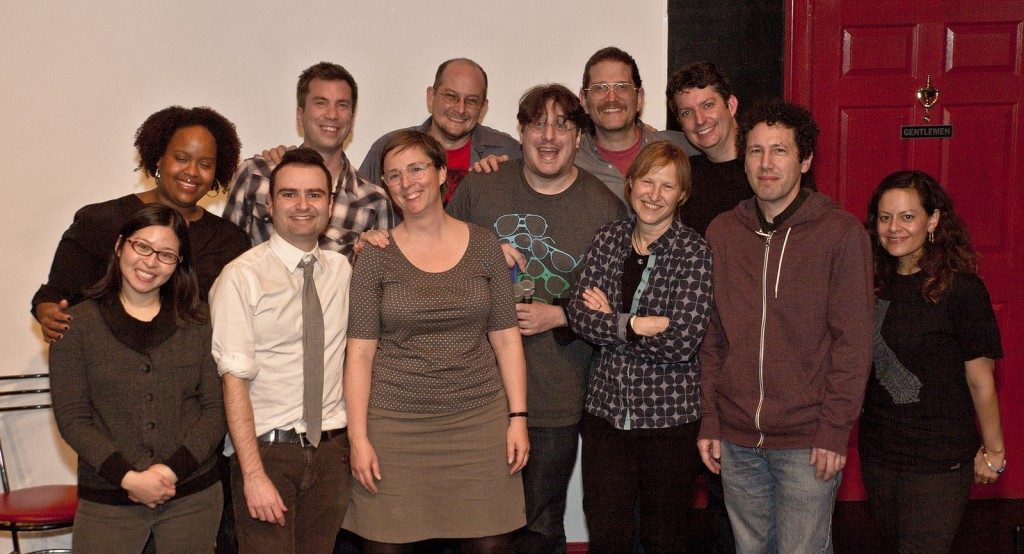 Beauty Love Truth! Wonderful guest musicians play a few of their songs, and after each song, the rotating cast of improvisers (from UCB, Second City, IO, Magnet Theater, the PIT, everywhere!) create scenes inspired by the mood, images, themes, or words from the song. Nothing is planned; sweet, tragic, or ridiculous relationships unfold, worlds are created or destroyed, souls enlightened or crushed, and magic truths underscored with laughter.
Performed in NYC at Barrow Street Theater, Union Hall, The PIT, Standard Toykraft, Magnet (and annually in Calgary, AB, Canada with local musicians and improvisers.) We hope to bring the show to more cities so people can create their own forms based on the model and foster more music/comedy crossovers.
Above is the cast photo from the show that featured Georgia and Ira of Yo La Tengo and Joe Garden from the Onion, who did the introduction! Check the site for the full list of the amazing musicians, improvisers, and emcees.